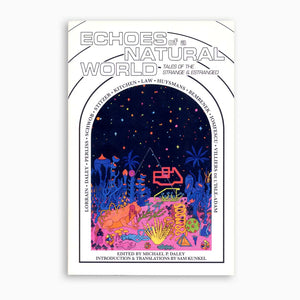 Echoes of a Natural World: Tales of the Strange & Estranged
Strange Tales by
Jean Lorrain / Michael P. Daley / Lou Perliss / Marcel Schwob / Dan A. Stitzer / Jeremy Kitchen / Janice Law / Joris-Karl Huysmans / Julia Bembenek / Mark Iosifescu / Villiers de l'Isle-Adam

"This is the missing link between Baudelaire and the Area X Trilogy, strange, beautiful, and bizarre as any denizen of a romantic ruin, nuclear test site, or poisonous overgrown garden could ever want." — CrimeReads

"Obscure, hilarious, profane, and human, Echoes of a Natural World brilliantly juxtaposes fresh oddities with classic gems of French literature. Speaking from the margins of fiction, but never marginal, each piece in this collection affirms that great, weird writing never goes out of style." — Maryse Meijer, Heartbreaker
"Echoes of a Natural World submerges you in the high strangeness of the world around us. The eleven tales herein—both new works and rediscovered gems—form an uncanny menagerie. Its monstrous toads, murmuring fungi, and ghostly boars will haunt your imagination." — Gabriel Mckee, Pink Beams of Light from the God in the Gutter: The Science-Fictional Religion of Philip K. Dick
Echoes of a Natural World presents a continuum of discomforting reactions to a world perpetually out of whack. Nature—so oft considered the epitome of "order" and "tranquility" in the human mind—is herein explored at its most aberrant, absurd, and nightmarish. Through eleven weird tales, Echoes of a Natural World raises questions about Nature's influence on the mind and the mind's unnatural influence on Nature.
Contributions include new translations of fin de siècle Decadent masters—sensual accounts of amphibian horrors and secret caverns below country inns. These sparkling 19th century pieces sit against contemporary American fiction that delivers haunting scenarios and darkly comic ontological routines. Behold accounts of whispering mold and Midwestern strip-mall desolation; occult hypnosis and regenerated limbs; void-bound train rides with a hallucinatory hustler king; ghost boars in German battlefields; spiraling anxiety that only peach trees and country cottages could produce. Parse through questionable documents that detail the aftershocks of a once idyllic world no longer salvageable.
This kaleidoscopic collection wades in those nebulous waters where the inner world and outer landscape mesh. For as we barrel into a reality where technology has seemingly penetrated even the most remote corners of the earth, one must ask: Is it even possible to have a genuine interaction with Nature anymore? Has it ever been? Or have these longings always been the romantic delusions of a species obsessed with itself? Echoes of a Natural World defies easy categorization and easy answers.
"What's interesting about the project here—and I think that it succeeds beautifully—is that these tales represent American voices and symbolist, fin de siècle, French decadent voices with a century between them and they're all interlocked perfectly."—Chris Via, Leaf by Leaf

Edited by Michael P. Daley. Introduction and translations from the French by Sam Kunkel.
176 pages / 5.25" x 8" / Softcover
ISBN: 978-1-7349060-0-4
---
Share this Product