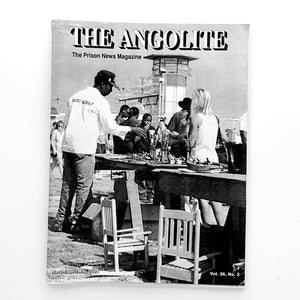 Louisiana State Penitentiary—The Angolite (Spring 2001 prison zine)
The Angolite is the award-winning in-house news organ for Louisiana State Penitentiary at Angola. A legendary magazine that, at times, featured famed prison reporters like Wilbert Rideau. Serious journalism on the criminal justice system is accompanied by poetry, prison sports coverage, etc. This is first-person American history that remains woefully neglected by academia and popular culture alike.
This March/April/May 2001 issue was seemingly sloppily staple bound, but it is bound tightly nonetheless. Only condition issue is a very small tear at the very top of the spine. Otherwise very good. ~8.5"x11"
---
Share this Product