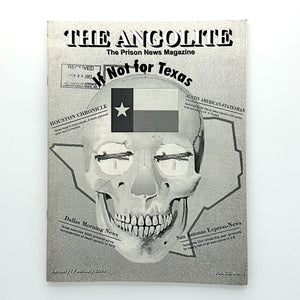 Louisiana State Penitentiary—The Angolite (Feb. 2003 prison zine)
The Angolite is the award-winning in-house news organ for Louisiana State Penitentiary at Angola. A legendary magazine that, at times, featured famed prison reporters like Wilbert Rideau. Serious journalism on the criminal justice system is accompanied by poetry, prison sports coverage, etc. This is first-person American history that remains woefully neglected by academia and popular culture alike.
This February 2003 issue is ex-library, which in this case adds historical value, as it is from the U.S. Court of Appeals at Little Rock—the sole borrower was a judge.
Condition wise very good, with some very minimal scuffing to the back cover. ~8.5"x11"
---
Share this Product